Our display advertising is the 21st century solution you need to attract new customers in New York.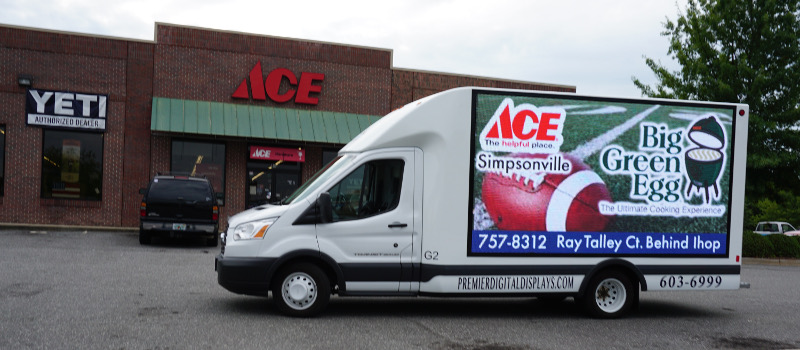 Stop spending money on traditional advertising that doesn't work! Billboards can be effective, but you can't change them very often, which means you have to limit the amount of current information you include. TV and radio advertisements are expensive and have limited effectiveness because many people don't use traditional TV and radio anymore, and when they do, they skip commercials. If you are trying to attract new customers in New York, New York, you need something new and different that will grab their attention as they are walking or driving down the street.
The good news is that you have found us at Premier Digital Displays. We are taking display advertising to the next level with our mobile advertising trucks:
Each one of our trucks has three commercial, weatherproof digital LED screens. These screens are billboard sized, but can include eye-catching motion and sound to attract attention.
Each side of our trucks is equipped with a 102-inch screen and the rear of each truck has an 82-inch screen. The display is very bright, allowing your display advertising to be seen in any weather, including full sunlight.
Because our display advertising is digital, it is easily changed. We allow free unlimited changes to your advertisements. They can also be changed depending on the specific location of the truck, and we can even change the message at different times of the day.
If you want display advertising that is fresh and interesting, give us a call today. We can help you stand out from the competition and give you a great return on investment on your advertising dollars.
---
Display Advertising in Greenville, SC
Display Advertising in Charlotte, NC
Display Advertising in Columbia, SC
Display Advertising in Atlanta, GA
Display Advertising in Los Angeles, CA