OUR TRUCKS ARE COST EFFICENT!
Save Money. Reach A Bigger Audience.


Since our billboards are digital, there are no production costs, cutting needless overhead expenditure. Our Trucks can also be deployed on short notice for your specific advertising needs.  Contract times and campaigns are completely customizable and can be run for any length of time.  Grand Openings, Festivals, Parades, Outdoor Events, and Concerts our Trucks make an impact everywhere.  We also specialize in Political campaigns where messaging changes rapidly and our trucks can meet the demand of changing messaging on the demand as new political situations arise during a campaign.  See Surveyed Results
Modern Advertising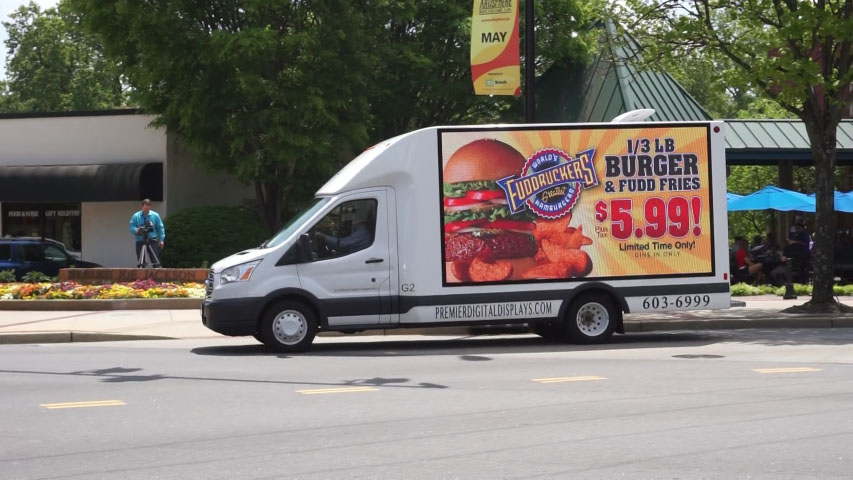 Large Audience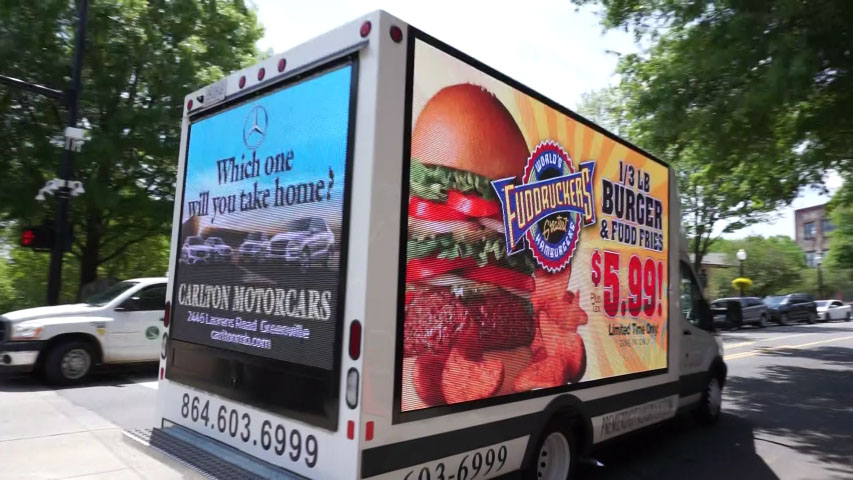 Cost Effective
HIGH IMPACT ADVERTISING:
LED Digital Billboard trucks increase consumer awareness, cut out massive overhead costs, and deliver results.  There is not a better more effective way to advertise and inform with increased engagement time of your audience.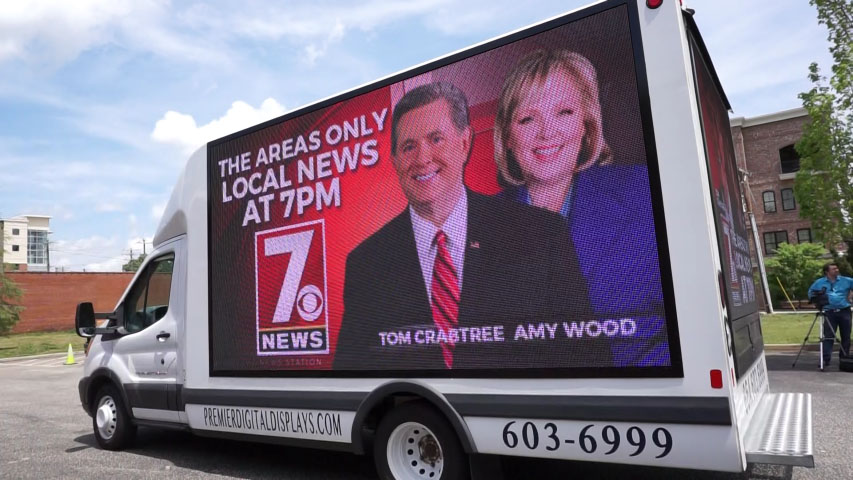 WHY THIS MEDIUM
WORKS
·         The cost per impression (CPI) beats television, regular outdoor, newspaper, and radio as does the cost per thousand (CPM). In addition to having a lower cost per person reached, the impression on the consumer that mobile billboards create is unsurpassed in the industry.
·         With the popularity of DVR, Netflix, Amazon Prime, Hulu, etc. television commercials are quickly losing their effectiveness. People just fast forward through the commercials so why advertise on television?!
·         Newspapers and other print media are losing ground to the Internet at a record pace, and radio reaches a highly segmented audience with no loyalty and with the effectiveness of satellite radio, iTunes, Spotify, etc. the audience for local radio is dwindling rapidly!
·         Mobile billboards cannot be fast forwarded, turned off, or thrown away. Our digital billboards are big, bright, and beautiful. They will be seen and research shows that 97% of people that see it will remember the advertiser. With 186 square feet on HD video screens playing your messages every minute the exposure to the public will be huge!
·         VOLSTAR Digital Display LED Trucks takes your message to the consumer, rather than waiting on the consumer to watch your commercial, listen to your commercial, read your ad in the paper they no longer subscribe to, go past your static or digital billboard on one artery in town! Our Trucks will actively initiate the contact rather than passively wait on the consumer to see or hear your ad! This constantly builds huge reach & frequency with potential consumers!
·         VOLSTAR Media offers Geo-Marketing to our clients so if you want to specifically target certain zip codes, areas of town, or special events then we can adapt and service your request based on specific needs. 
IS YOUR BUSINESS REACHING ITS TARGET MARKET?

"Advertisers Are Growing Their Business With Mobile Digital Billboards! Mobile Digital Billboards are new, innovative and can cover an entire market every day! No other media does that…NONE!"
Recall Rate
Brand recall is high among travelers who notice digital billboards. Nielsen tested six different campaigns in five major U.S. markets and found that travelers recalled seeing at least one specific digital billboard ad from 74 to 89 percent of time. Top performing brand categories included entertainment, gaming, quick-service restaurants, recreation and televised sporting events.
Captivating
The majority of respondents feel ads stand out more or just as much on digital billboards compared to other ad media. Seventy-one percent said "ads on digital billboards stand out more than ads online," and 46 percent feel the same related to TV ads.
Consumer Action
Consumers are paying attention to the information presented to them and acting on it, whether they are drawn to a location featured on an ad, discussing the ad with friends and family, or attending an advertised event.
Recall Rate On AVG

97%

Recalled Advertisements In A Month

82%

Highly Engaged Audience

76%

Recalled Specific ADS

81%

Impressed Travelers

92%
HAVE ANY QUESTIONS
Want information about Advertising Your Business on our digital truck?
Email Us Today!
Our mission is simple: Provide affordable, outdoor advertising that gets clients noticed. We're a locally owned "Digital Billboard on Wheels" business that can help you reach the right people at the right time. At VOLSTAR we offer you the freedom to update your digital ads as often as you wish and you can use multiple messages at no additional cost.