At VOLSTAR MEDIA, we stand out from other outdoor advertising companies in the southeast.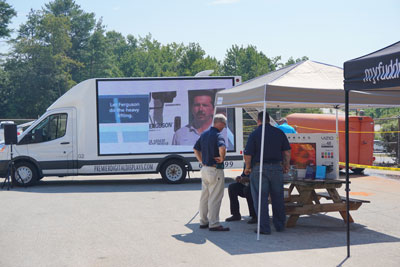 Have you been looking for outdoor advertising companies but haven't settled on anything for certain? Are you debating whether standard advertising would be better than digital billboards? At VOLSTAR MEDIA, we stand out from other outdoor advertising companies because we offer unique mobile billboard displays that allow you to reach your target audience efficiently and effectively.
Affordable Solutions – The cost of print, television and radio ads can be extensive. Not only are there production costs to ensure you create a high-quality advertisement, but you will also have ongoing costs to continue to have these messages shared with your audience. At VOLSTAR MEDIA, we offer affordable outdoor advertising that gets your business noticed without the additional costs.
Mobile Displays – Our digital billboard advertising takes your marketing campaign to street-level where we can target your customers where they live, work, play, and shop. We will work with you to determine the best routes and times for your mobile marketing campaign, and our drivers will take your digital display to your target audience. It's as simple as that!
Effective Advertising – Other outdoor advertising companies may have some solutions, but what other company do you know that offers effective high-impact digital advertisements directed at your target market? We know that people remember digital advertising better than other advertising options, and we think you'll see a big difference when you choose our mobile billboards.
Contact us today at VOLSTAR MEDIA to learn more about how we are different from other outdoor advertising companies. We look forward to seeing your next advertising campaign take off!
---
Outdoor Advertising Companies in Charlotte, NC
Outdoor Advertising Companies in Columbia, SC