Our L.E.D. signs get noticed, making them the ideal way to reach your potential customers in the Atlanta area.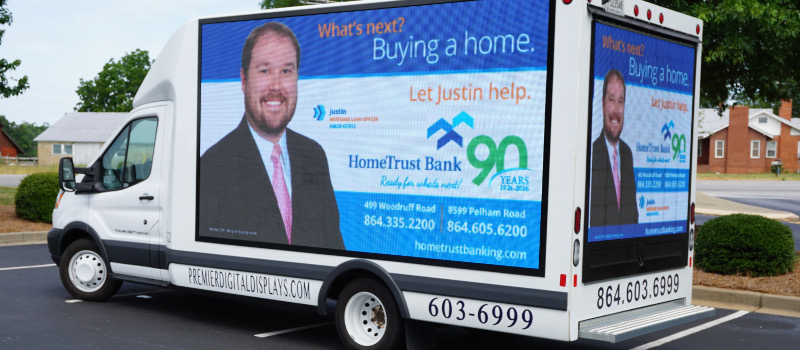 Your potential customers are scattered all over the Atlanta, Georgia area. They have a tendency to move around a bit during the course of a day, too. So, if you wanted to place L.E.D. signs where you were sure they'd see them, you would end up buying signs all over town. Rather than hope they stumble upon the handful you can squeeze into your marketing budget, give us a call at Premier Digital Displays. Our L.E.D. signs are mobile, so they go to where your target audience is at work, at home, shopping or at play.
There is nothing skimpy about our L.E.D. signs, as you'll have the use of the 102-inch side screens and/or 82-inch rear screen of one of our trucks. These trucks are driven through local streets, highways, and parking lots based on a route and timing that has been designed for your company's needs. You have complete flexibility with these L.E.D. signs because we can change them at any time, including having different messages shown based on the location of the truck at the time. You can also change the message on our L.E.D. signs anytime you want by submitting a new image. We never charge extra for these changes.
If you have been dedicating your marketing budget to printing, radio ads, and television spots, you'll be happy to learn that advertising with our L.E.D. signs is not only more affordable, but also more effective. Our trucks get noticed and for longer moments than other methods, resulting in higher retention and better conversion to sales. If you have any questions about our services, don't hesitate to contact us.
---
L.E.D. Signs in Greenville, SC
L.E.D. Signs in Charlotte, NC
L.E.D. Signs in Columbia, SC
L.E.D. Signs in New York, NY